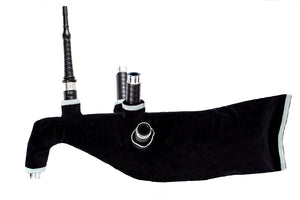 The BandSpec Bagpipe Cover is made to fit a range of bagpipe bags on the market, including Bannatyne, Canmore, Ross and Gannaway. Others to follow.
Fitting of the bagpipe covers is essential. Our bagpipe covers are made to measure and provide a tight fit, preventing slipping under the arm.
Our covers are made in-house to a very high standard using premium quality heavyweight fabric, offering extended durability and an overall better feel and better appearance. Our tailors spend additional time on the stitching, making sure the covers are robust enough to withstand years of use.
The BandSpec bagpipe cover come fitted with a zipper for easy access to the bag. The ends are velcro fitted and close neatly at the back. Non-slip patches are optional and help to keep the pipes firmly under the arm when playing.
Our bagpipe covers are made to order, in any colour combination. Delivery time is generally 1-2 weeks.

We can make your cover in any fabric type (velvet, cord etc.) and in any colour combination you would like. We offer w large selection of trimmings (wool fringing, metalic fringing, silk braid, metalic braid etc.). It's your choice.

The options are endless and therefore, we ask that you contact us with your request.  

Send Email