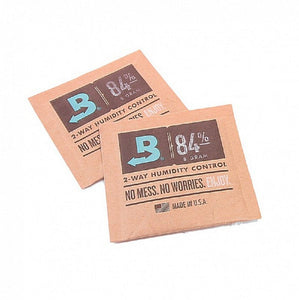 Boveda 84% Refill Pack for Bagpipe Chanter Reeds (8g) - Twin Pack
Unleash the full potential of your bagpipes with the unparalleled moisture control of Boveda's 84% Refill Packs. Designed meticulously for the precise humidity of bagpipe chanter reeds, this pack ensures your reeds are perfectly conditioned, delivering consistent, rich tones every time you play.
Key Features:
Precise Humidity Control: With a unique 84% relative humidity level, these packs provide an optimal moisture environment that is crucial for the maintenance and longevity of your chanter reeds.

Easy to Use: Just place the Boveda 84% packet in your reed storage case, and it goes to work immediately. No water, no mess, and no maintenance required.

2-Pack Convenience: Each pack contains two 8g Boveda sachets, offering you a ready reserve for continuous reed care or the ability to care for multiple reeds at once.

Long-Lasting: Each Boveda pack is built to last, maintaining effective moisture control for weeks, depending on conditions and case seal.

Consistency in Performance: Regular use of Boveda packs means less time adjusting reeds and more time playing, thanks to the consistent moisture that prevents warping and cracking.

Protection With Peace of Mind: These packs provide a stable environment for your reeds, safeguarding against the common problems caused by fluctuating humidity.
The Boveda 84% Refill Pack is the professional's choice for maintaining the integrity of bagpipe chanter reeds. Whether you are practicing at home, tuning up for a competition, or performing live, trust Boveda to keep your reeds in prime playing condition. Embrace the sound of excellence and reliability with Boveda — where precision meets performance.
Order your Boveda 84% Refill Pack today and experience the symphony of perfect harmony!