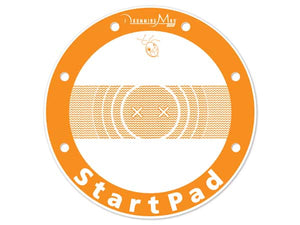 The DrummingMad StartPad is the revolutionary, ideal and cost effective solution for every beginner snare drummer. This innovative and unique new drumming practice pad will place every beginner snare drummer on the right path to drumming success!
XX Marks the Spot Guides to assist in perfect aim, including representation of the snare region and playing area.
Flexible, Portable & Durable Flexible and durable material gives the StartPad a versatility unlike any other practice pad. Carry the pad with your music in a ring binder folder, roll it up and carry it in your pocket, ready to take out and play wherever you go!
Non-Slip Base Uniquely designed non-slip base grips surfaces to prevent the pad from slipping around while being played upon.
Ideal for Beginners Ensure beginner drummers start right with the DrummingMad StartPad. Allow beginners to increase their confidence on a drum by first using the StartPad directly on the snare drum to soften the volume of playing, while retaining a realistic rebound feel.